Shared spaces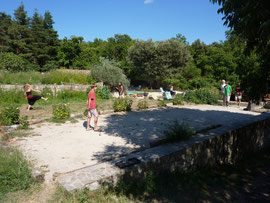 Apart from the self-catering flats and their private terrace, the growing areas, our own private house and our tenant's private house and garden, the whole estate and the facilities offered are shared by all our guests living on the place.
These shared spaces include the car parks, the various alleys, the swimming pool and the sauna, the various playgrounds and leisure rooms « (pétanque » area, badminton ground, swing frame, table football room) the multifunction room which is called « la Grange » and the woods and natural areas all over the estate.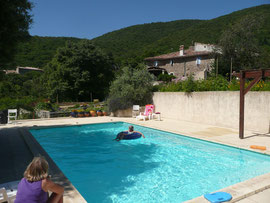 The swimming pool (9m*5m) and sun-bathing area (100m2) with the sauna are situated 30m away from le Grand Mas in the East direction.
It is consequently more sunny from 12 AM untill sunset and you will particularly enjoy it in the end of the afternoon under the shade of the oak tree, or at the end of the day watching the sun falling behind the Mont Brion.
Around the swimming pool, you can rest on the large sun-bathing area either under the sun or nearby the shade of the olive tree or of the pink laurel.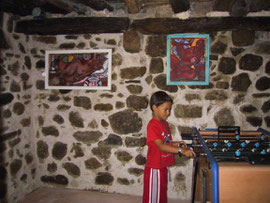 The « pétanque area » and the lawn are adjoining and located near the swimming pool. Pétanque players and adept of refreshing rests will appreciate the shade of the micoucoulier in the evening.
A badminton ground is available near the entrance of the estate (below the road, façing the kennels).
The table football small room is at the level of the garden below the terrace of the medium flat «Le Cantou ». You will find a few paintings on the wall. In winter, we use the wooden beams of the roof to tighten and keep « la raîolettes » the sweet local oignons.
A large swing frame, a basketball panel and a hand ball goal are available on the estate.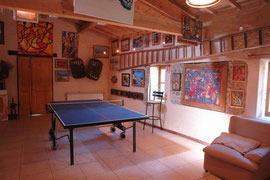 The big multifunction room (60m2) called « La Grange » situated on the first floor, occupies almost all the North side of Le Grand Mas.
It is mainly the place to play table ping pong at least when there is only a few guests on the estate,
children often go there to watch television or a DVD in case of bad weather or while adults are cooking the meals,
on special occasions, it is a dancing room (the table ping pong and the various chairs and tables must be put aside first)
we have also received in this room various seminars, members of a choir, adept of yoga....